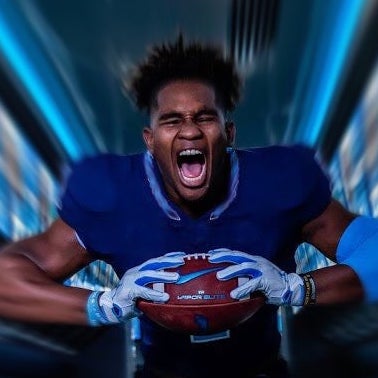 Who is Ruck the Butcher? Getting to know UNC's Kaimon Rucker!
| Greg Gaines
Kaimon Rucker, born and raised in Hartwell, GA, a small lake community nestled in the woods of the "706", was an All-State standout at Hart County High School who became a Hybrid Edge Rusher for the UNC Tar Heels in 2020. In his True Freshman season, Kaimon's lightning-fast get-off and explosive power earned him Defensive Player of the Game versus Western Carolina and quickly grasp the attention of fans in a nationally televised football game against Boston College. An ABC sports commentator quoted UNC defensive line coach's description of Kaimon as "a rolling ball of butcher knives!" BOOM! Ruck the Butcher was born!


Although "The Butcher" was the perfect name for Kaimon's super aggressive ability to explode off the line of scrimmage, slice through opposing offenses, and annihilate ball carriers, the name represents a higher calling that many people do not know. Kaimon, like his favorite Bible story of Davidand Goliath, had to face some Goliaths of his own. He had some hurdles, mountains and obstacles thrown in front of him.
Like David, he was overlooked and not seen as a worthy opponent by some…even being told he was not big enough, not quick enough, and not strong enough. However, in the face of these giants… just as God gave David the courage to slay Goliath, He is also giving Kaimon the courage and passion to butcher his own. As he continues to ignore the critics, stand firm in faith, and butcher his giants…

Kaimon's mission is to inspire others to stand with courage and slay theirs.

BUTCHER YOUR GIANTS!